Bathroom Vanities and Cabinets- Do They Need to Match?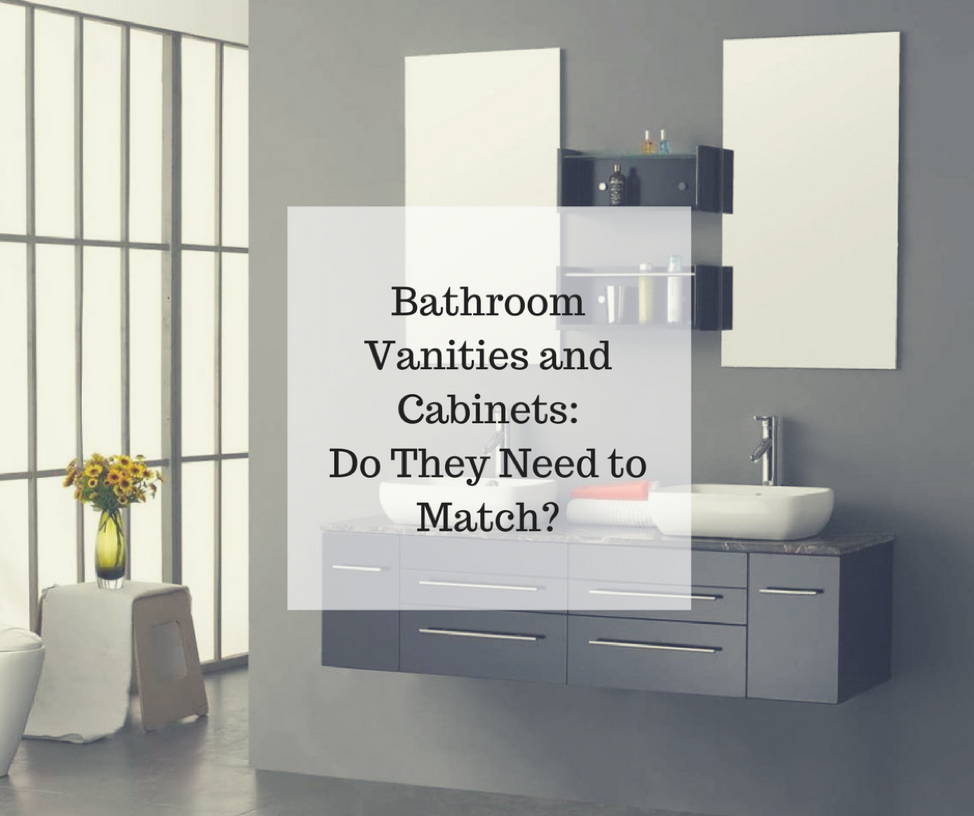 Choosing the right vanity and cabinets is a fine art. Factors like the size of the bathroom must always be considered, but style matters should not take a back seat. After all, matching the two elements helps you achieve a coherent look of the bathroom. The only problem is that there seems to be an endless choice of products. Here is a guide that should help you take your pick and make a real difference in your indoor oasis.
A wide spectrum of choice
The vanity cabinet is a crucial element of bathroom design. It supports all types of bathroom sinks, except for pedestal ones. From a visual standpoint, it plays an important role too. Most notably, it conceals the unsightly features in the bathroom, such as water supply pipes. A vanity can also serve as a style centerpiece, which anchors the look you have in mind.
Mixing and matching does take time to master. Besides, cabinets come in many different shapes, sizes, and styles. We have narrow cabinets that host small sinks. On the other hand, double-wide cabinets can hold a double sink and a countertop. There are pieces that include hotel-like open shelving and those typical, box-looking cabinets.
So, do not rush things. If you know what you are doing, you can try to go for an eclectic look. Or, play it safe and create a coherent visual identity.
A perfect blend
The countertops covering the vanity cabinet also take many forms. Naturally, one of the most important decisions is linked to materials. Some common solutions are ceramic tiles, plastic laminate, synthetic stone, natural granite, and quartz. These options contribute to the visual side of things. A sleek, veneer surface, for instance, can help you refresh an outdated bathroom.
Likewise, evaluate how these different materials match the cabinets as well as the overall style of the room. Apart from that, you might want to take into accounts their durability, storage space, and ease of maintenance. This brings us to another important point. When picking the best solution, one must not lose sight of elements such as size.
Just like with bathroom stools and benches, it is best if you can find a way to blend visual appeal and functionality.
Success by design
There is one trend that is making big waves in bathroom design and that is cabinetry that looks like furniture. Such a quality product can cost several thousands of dollars, but it does deliver a stunning style statement. Namely, I have seen some attention-arresting examples like cabinetry that emulates the look of fine antique dressers.
They can serve as crown jewels of your signature style. So, if you ask me, it is fine to splurge on a quality piece a bit. In any case, whatever solution you select, see to it that cabinets and the vanity surface do not compete one against other and for your attention. Ensure that they are nothing short of a match made in heaven.
Design greatness
Things like bathroom vanity cabinets should never be an afterthought. You want to avoid that boring, disjointed feel that plagues many bathrooms. In order to make the magic happen, there are a handful of hard rules to adhere to.
Other than that, you are free to unleash your inner designer. Your choices should reflect your sense of style and fit your budget. So, elevate your bathroom design and pull off that splendid look. As an added benefit, you can increase storage space and overall utility of your sanctuary of relaxation.
---